Discover the essential guidelines to empower your child to love her life!
"Useful Insights and Ideas to Help Parents and Children Connect Emotionally"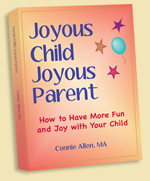 Joyous Child Joyous Parent is a concise collection of parenting wisdom in an easy-to-read design. This action-based book offers help to busy parents who want to nurture and guide their child in a loving and joyous way.
Its practical guidelines and tips provide the encouragement and direction parents need to make big changes in how they communicate with their child. The compact format makes it easy to have close at hand, whether on the kitchen counter for daily review or in a purse to help with a crisis or simply a much-needed reminder.
All parents face challenges that can leave them stressed and spinning into emtional reactivity. Am I being too restrictive or too permissive? How can I get my child to listen? How can I get my child to do as I ask?
Connie challenges parents to first look their own behavior to evaluate whether it supports them and their child. She then provides specific actions parents can take to nurture their own emotional well-being and that of their child. By focusing on their own behavior, parenting stresses diminish.
Joyous Child Joyous Parent encourages parents to see their child as a naturally creative, capable, loving individual who wants to succeed in life and to have a joyous, loving connection with their parent. It asks parents to recognize and nurture their child s innate knowing, and to become increasingly mindful of their shared communications. By working with the 60 guidelines, both parent and child move toward a more joyous, loving, fun relationship.
What people are saying about Joyous Child Joyous Parent . . .
"In these chaotic times the last thing busy parents need is another oversized, complex how-to parenting manual that may or may not address their needs. What they do need is Joyous Child, Joyous Parent. Connie gives parents useful insights and ideas to help them connect emotionally with their children in a concise, easy-to-read, easy-to-use format. This simple book has something for all parents and all children!" — Jeanna Lurie, Program Manager, Blossom Birth

"Nice work! There is much to be gained from this delightful book."
— Jean Liedloff, author of The Continuum Concept

Joyous Child Joyous Parent is filled with simple but powerful action steps that we can take to strengthen our connection with the children in our lives.- Pam Leo, author of Connection Parenting

Connie's insights into joyful relationships are gigantic, graceful, without judgment and inspiring. Each page is a deeply comprehensive mantra. I found myself reviewing my relationship with my 29-year old son, with my life partner, my colleagues and the 230 children I shepherd in our private elementary school. It takes no effort to put one or two pages into practice each day. The result is levitating. – Gita Labrentz, Ph.D., Life-time Educator and Developer of Waldorf Schools, Academic Director Westside Waldorf School

A few minutes each day is all it takes to set the stage to a more joyous and fullfilling connection with your child—and your world. For this is not just about loving your child, it's also about loving your self and your world. Whether you pause to reflect on just one of these pages for a few minutes daily, weekly, whenever—your relationship with your child and your life will be all the more joyful and fulfilling for it. – Meryn Callander, President and Cofounder Alliance for Transforming the Lives of Children (aTLC)

Joyous Child, Joyous Parent is a quick read which offers solid help for parents. This book focuses on what parents can really control: their own response to their children, and shows how this approach can make a real difference in parenting. The format makes it easy for busy parents to incorporate this thoughtful approach into their everyday routine with their child. Parenting can be less work and more fun. – Rev. Margaret Marcuson, Marcuson Leadership Circle

Joyous Child Joyous Parent is an easy-to-grasp yet profound guide that stretches beyond parenting; it is a way of approaching life. Connie has summed up 60 short insights of how we can shift our focus from struggle and move toward love and joy. It is a perfect reference for parents with children of all ages. – Mary M. Hart, ChildSpirit Institute, Director

Joyous Child Joyous Parent is a delightful compilation of positive, practical wisdom for parents and children. Following these guidelines can help you give your best to your child. Nothing in our lives will ever be more important than our contributions to our children. – Kent W. Peterson, MD, Former Executive Director, American College of Preventive Medicine, Co-founder, Alliance for Transforming the Lives of Children

Joyous Child Joyous Parent is a swift antidote to decaying family relationships. Easy to read and implement, Connie Allen's book can help you and your children grow happily together. – Pat Farenga, author Teach Your Own: The John Holt Book of Homeschooling

This is a little gem of a book. For parents who are looking for a way to enjoy their relationships with their children, this book can be used in several ways. You can give it a quick read-through, and immediately get the sense of how to jump out of recurring bouts of unsatisfactory interactions. Although the ideas seem simple, they are profound in their basic message. The book gives an entirely new look at the role of parents. It also offers an insight as to how to view previously irritating occasions as opportunities for enjoyable times. As a reference for a specific difficulty you may be encountering, this book has many suggestions that are about ways of viewing things, and so take very little effort to put in place. Anyone who interacts with children in any way can dabble in this book for general inspiration. You can open any page and read something that is intriguing, something you even know about but have perhaps forgotten. The ten top tips are so important it is amazing that they can be laid out so simply. – Helen Hughes, Mother, Grandmother and Foster Mother, President of SANE, the Society for the Advancement of Non-coercive Education, Founder of Windsor House, a democratic, non-coercive, multi-age, parent-participation public school for 4 to 19 year olds

Such a little book, Joyous Child, Joyous Parent, is chock full of wonderful ideas and suggestions for parents who recognize the importance of connecting with their children and want to reap the rewards of a rich parenting experience that enhances their lives and the lives of their children. – Marilyn Milos, Founder and Executive Director of the National Organization of Circumcision Information Resource Centers (NOCIRC)

A perfect compliment to morning meditation reading. A simple, practical, insightful, supportive resource for parents. – Dee Yoh, PhD in Systemic Psychology, International speaker, trainer, author.
Simply click here to purchase your copy!

If wish to purchase more than one book or have it shipped Internationally please contact me at Connie@JoyousFamily.com
You'll love how this easy-to-read book supports you and your child to have the loving joy you both desire with one another!
Note: All sales of Joyous Child Joyous Parent are non-returnable and non-refundable